Contacts:
Michaela Wolff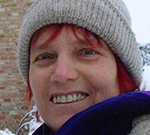 Tel.+39 011 9814017
Mob. +39 340 9609920
Email: miwolff@libero.it
www.ilbricco.it
Bricco Ornesio – 10090 Sciolze
GPS: N 45.095462° E , 7.886557°
The access to our road is at the end of a dirt road (700m) from the Sciolze-Vernone County Road.
Public transports arrive in Sciolze, but unfortunately on a restricted timetable.
We can provide transport between the public bus service and Il Bricco.
Connections:
S.Pertini/Caselle Airport: 35 km
Chivasso train station: 18km
Motorways:
A4 Exit Volpiano > Gassino
A21 Exit Villanova D'Asti, towards Chieri > Andezeno > Sciolze
From Turin
Leave Turin in the direction of San Mauro, as far as Gassino. At the roundabout in Gassino turn off towards Cinzano; go straight on for 5 kms as far as the Rivalba/Vernone crossroads; turn right for Vernone and after 2 kms turn right again towards Sciolze; after 300m turn left into our lane, and after 700 m you will arrive at Il Bricco.
From Chieri
Leave Chieri in the direction of Castelnuovo Don Bosco. At Andezeno turn left towards Sciolze. Go through Marentino and straight on as far as the village of Sciolze; turn right towards Cinzano/Vernone; go through Sciolze. After about 1km from the centre of the village, turn right and go up our lane; after 700m you will arrive at Il Bricco.
You can use the form below to contact us